ON Saturday, Deputy Prime Minister Michael McCormack announced 60 regional airports would receive a total of $41.2 million in grant funding through the COVID-19 pandemic, with $3 million contributed to Scone Airport airside works.
The Deputy Prime Minister said the government was committed to supporting regional airports and the critical role they play in connecting regional communities.
"Regional airports connect communities to healthcare, education and social connection. They stimulate the economy through tourism, jobs and flight training and support critical medical evacuations from regional towns to capital centres," said Deputy Prime Minister McCormack.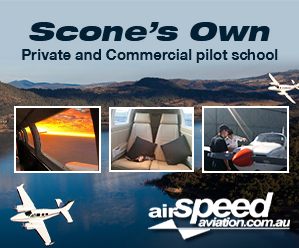 The new funding for the Scone airport airside infrastructure is a $12 million project, with Upper Hunter Shire Council contributing the remaining $9 million.
The airside works include rehabilitating the runway, constructing new taxiways, apron areas, aircraft parking, drainage, lighting, navigation aids and wildlife fencing.
Scone resident and business owner based at the airport, Geoff Pinfold, welcomed the government grant but questioned if $12 million for airside upgrades was overkill and how the government grants were tied to ratepayer funds.
"As someone who uses the airport, I think a lot of the things in the plan are not needed, do we really need to spend $5 million on a new taxiway?" he questioned.
"If we got someone from CASA (Civil Aviation Safety Authority) to come up here and look at the issue from a safety perspective to determine what is actually needed," he said.
"For example, Council want to spend over $1 million to replace the lighting and I understand at the moment the lighting is on all night and it would save electricity costs, which is $22,000 per year, but it is still cheaper than $1million and it's not unsafe," he said.
"With grant funding, often there is an arrangement whereby the Council has to match the government grants, either dollar for dollar, or partial such as 60 cents or 40 cents in the dollar," explained Geoff.
"My concern with all the grant funding is, if it is tied, does that mean Council needs to borrow more money for the project," Geoff Pinfold said.
The business case for the Scone Airport Development is currently being reviewed by an independent consultant following community concerns. (Read: Independent Review of Airport Begins)
Related stories: