AFTER five years of dedicated hard work, Annie Baker has sold her beloved Asser House Cafe to new Sconenites, Stuart and Ivy Jamieson.
Annie put Asser House on the market two weeks before COVID-19 hit and was worried the cafe would never sell during the pandemic, until Stuart and Ivy arrived on the scene.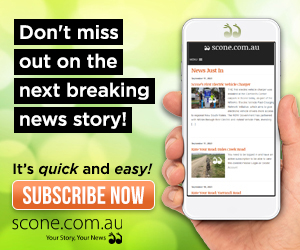 "My broker, Dani Rifai, who runs business agents on the central coast, called me out of the blue and said I had a buyer and I had smashed the record for any restaurant or cafe within a 100km radius," Annie said.
"I'm so happy because I just didn't think it was going to happen this way," she said.
"It's going to be business as usual, the same staff will be there, they [new owners] won't be changing anything major…they're happy to keep it as it is," she said.
New owners Stuart and Ivy will be taking over the cafe on October 1, making Annie's last day Wednesday, September 30.
Fresh from Sydney, Stuart and Ivy decided to move to the country with their son Grant and said when looking for a business, they didn't find Scone, Scone found them.
"With Grant being born, we thought 'let's do a country change' and when we started searching for businesses Asser House just kept popping up," Stuart said.
"We didn't know a lot about Scone at the time and then we found out Scone is the horse capital of Australia and then second biggest thoroughbred breeding behind Kentucky," he said.
"We don't know a lot about horses yet…when the time is right and Grant is old enough, we'll look at getting a pony," he said.
Stuart said he loved the country vibe of Asser House and is not looking to make any dramatic changes to the business.
"My vision for a business like this is to provide a place for the community to come and connect," Stuart said.
"From my perspective, it's about providing that country hospitality, country values, good quality and honest prices," he said.
"If you do get a traveller in, they don't want to go and see what they saw in Newtown, they want something from the country," he said.
After working in corporate roles across Asia for 16 years and experiencing some time off, Stuart is itching to get back to work.
"I'm impatient and once we sold the house I just wanted to get here…I joined the community notice boards and started to get a feel for Scone," Stuart said.
"After working from home since February, which was great because my son was born in December, I'm pretty keen to get back and do something real," he said.
"I've always loved to cook, I like experimenting…my wife Ivy will be doing the food photography, she is the queen of instagram," he said.
Annie said she will miss her Asser House family, but is really looking forward to having some time off, visiting family and friends in New South Wales.
"I haven't had any time off since the pandemic, we've been open everyday and are busier than ever," Annie said.
"Saying goodbye, that's actually going to be very sad, it's bittersweet," she said.
"The staff are like my children, I've had them for a long time and they're a good team, I'll miss them a lot," she said.
"Now I'll be able to sit there as a customer and have a hot coffee and actually drink it…although I'm not going to enjoy paying for it," joked Annie.
Meanwhile, Stuart and Ivy are busy settling in their new house in Scone, unpacking and making friends with cows.
"Our property neighbours the cows and we quite like having them there, except they're not quite friendly yet," Stuart said.
"I walked up to them the other day and said 'hello cows' and they all ran away, so I think they're not used to having people there yet," he said.
Anyone in the community who wishes to farewell Annie on her last trading day is invited to pop by Asser House Cafe on September 30.
Tags: Asser House Cafe, scone