PEOPLE from throughout the state are booking early to be in Scone and hear from Christos Tsiolkas, well known Australian author of "The Slap", which was made into an ABC TV series.
Janie Jordan, president of the Scone Literary Festival, said they were excited by the interest in this year's Patrick White Oration.
"The Oration is attracting attention from near and far with bookings from Sydney, the North West, and, up and down the Valley," said Ms Jordan.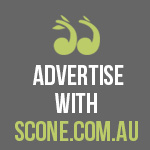 "There is no doubt that an author of his calibre is a strong attraction, and he'll also be in conversation with our Patron and Australian living legend, Phillip Adams," she said.
"This is proving to be an irresistible combination," she said.
"When we received a major investment from Upper Hunter Shire Council to support our growth plans, we made a commitment to help boost Scone and its revitalisation, particularly post-bypass," she said.
"With the interest in the Patrick White Oration and visitors coming from afar, it looks like we'll be able to deliver on that commitment," Janie Jordan said.
The Oration on November 16, will also be the launch of the Scone Literary Festival's March 2020 program, which is also generating a high amount of interest.
The Festival has only been running for six years and continues to punch well above its weight, making the Qantas 101 Holiday List last year, amoung well established festivals such as Floriade in Canberra and the MONA FOMA in Tasmania.
The Festival numbers for this year are already showing more growth and organisers are receiving plenty of enthusiasm from people preparing their trip to Scone.
"Well done Scone getting these calibre of authors," said Tammy White, from Gunnedah, who is already booked for the Oration and is looking forward to the Festival in March.
When: 5:30pm, Saturday, November 16, 2019.
Where: Scone Arts and Crafts Hall, 63 Kingdon Street, Scone.
Tickets: TryBooking.
More Information: Janie Jordan: 0414 645 507.
Related Stories:
Tags: culture, festival, Scone Literary Festival, Tourism