LAST week Barnaby Joyce made an announcement that scone.com.au and the Manilla Express were successful in obtaining government grants for small and regional publishers!
It was incredible to hear that finally some small independent news services got a slice of the grant funding pie this year, previously we have not even been able to apply for grants, which often only considered funding businesses with a minimum $500,000 annual turnover, needless to say we couldn't dream of applying for those.
But this year, with many of the larger organisations ceasing publication, the criteria changed and smaller news services like us had a shot!
Scone.com.au was awarded more than $110,000 and the Manilla Express got more than $50,000.
While Barnaby Joyce, federal member for New England and Joel Fitzgibbon, federal member for Hunter may have radically different political views, it was great to hear their support for scone.com.au as a valued part of the fourth estate.
"I welcome news that scone.com.au and the Manilla Express have been successful in this funding round which will help to keep local jobs in our community," Barnaby Joyce MP said.
"The fourth estate, the media, is the protector of our democracy. We're making sure that vital pieces of that network remain in place," he said.
"It's great to see media being supported because without it, a key fabric of our democracy falls to pieces," Barnaby Joyce said.
Joel Fitzgibbon MP said he was especially glad smaller media were given support.
"It's critical to have local media producing local content," Joel said.
"The funding is critical to keeping local media alive and well and is better late than never," he said.
"And I particularly welcome the funding for smaller players to be able to access the support," Joel Fitzgibbon said.
The grant process was rigorous and more than 300 publishers from around Australia applying.
Thankfully the plans for our little news service cut the mustard of government scrutiny and our hard work during the last four years with an innovative approach to local news was recognised and we are to stay open and grow.
We breathed a sigh of relief to be able to offer our new graduate cadet journalist, Taylah Fellows, a full-time job with scone.com.au and can now employ another journalist to work at our soon to be launched singleton.net.au.
The grant is a massive help for small regional publishers, but now we have to get our skates on to meet all of the government milestones in our plan and ensure within 12 months subscriptions and advertising can pay the wages of the journalist for scone.com.au and singleton.net.au, before launching a third town-based independent news site.
Our vision is to work with journalists in other regional towns to ensure they can keep local news for their local community and not go the way so many regional publishers have recently gone.
Like the Manilla Express, we adapted to the current wild west media landscape and began subscriptions to help keep us afloat with the downturn in regional advertising.
We've been heartened by the hundreds of people who have already subscribed to scone.com.au and will keep working hard to make sure scone.com.au is covering costs by the end of the grant period.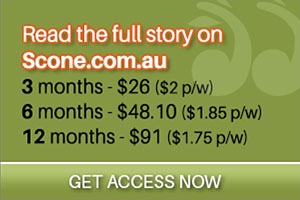 While, we've seen other media adapt to the changing times by moving their journalists out of town and publishing media releases from government and organisations verbatim, we will continue to hold true to our local news values and have journalists based in the town questioning, chasing news leads and writing original content.
The old fashioned news values, even during these tumultuous times, still hold true and it why our little news service, based in a town of 5,000 continues to have a bigger audience than any other text-based media in the Upper Hunter, last month we had more than 92,000 page views!
We congratulate the Manilla Express on their success and we hope to see more independent small publishers grow, supported by their local communities and keep regional news alive.

Elizabeth Flaherty
Editor, scone.com.au.