THE newly refurbished Scone Gymnastic centre is officially open, complete with an eight metre tumbling trampoline and reverse cycle air conditioning.
Upgrades also included asbestos removal, new flooring, wall lining, windows, LED lights, a new bathroom, kitchen, entrance foyer, storage room and back entrance path.
Funded by the New South Wales Government's Stronger Country Communities Fund (SCCF), the $164,370 refurbishment is expected to attract other fitness groups to the facility.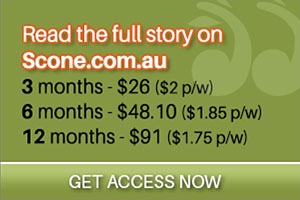 Nicky Western, head coach of the Scone Gymnastics Club, said the upgrades enable all enrolled gymnasts to access their normal classes during COVID-19.
"The increased space and additional equipment allows the club to offer an improved training environment, similar to a regional facility," Ms Western said.
"They've lined it all inside and outside, there was even enough money to put new flooring in and they took out the old storage area and put a new one in so we could use more space," she said.
"They also gave us a new kitchen area and an entry where people can come in and sign before going to class, whilst maintaining social distancing," she said.
"We also have an eight metre tumbling tramp and the kids just love it," said Nicky Western.
Ms Western said before the upgrade, it was a "toss up" as to whether it the old building would be worth saving.
"The roof had been leaking and the floor was dodgy, then Council got a new roof put on due to hail damage and that was kind of the catalyst of getting it upgraded," Ms Western said.
"It was 48 degree at times in the summer…so I said to our other coach Belinda Woodley, 'what is the thing we want fixed the most,' and it was the heat and the cold," she said.
"We got a grant for reverse cycle air conditioners…then we got parents to write to Council to bump us up the list for the Stronger Communities Funding and thats how we got this project done, they just made it fantastic," she said.
"We cannot thank Council and the State Government enough for the work completed at the youth centre," said Nicky Western.
Mayor Collison also thanked the NSW Government for the funding and said it was a fantastic new space for the community.
"We love our sports and it is fantastic to have great local facilities so people don't have to travel long distances to exercise, play and cheer," Cr Collison said.
Mary Spora, Scone Youth Services Supervisor said other groups and communities will be able to hire the Youth Centre.
"These upgrades will benefit the Scone Youth Centre attendees as they will be able to enjoy the gym equipment in the air-conditioning whilst being COVID–19 safe," Ms Spora said.
"We will also be able to take bookings for the hire of the centre and kitchen to community groups for meetings or gatherings," Ms Spora said.
Upcoming projects funded by the NSW SCCF
Round two:
Merriwa Showground,
Merriwa Oval,
Merriwa Skate Park,
Scone Field,
Harrison Oval,
Jefferson Park and
Wilson Memorial Oval.
Round three:
Murrurundi skate park and learn to ride track,
Bill Rose netball courts,
Merriwa CBD Revitalisation and
McKinnon Oval.
Tags: NSW Stronger Country Communities Fund, scone gymnastic club, scone youth centre