HORSE riding lessons and trail rides are now available in Scone, courtesy of Jo Fernandes and Tom Elmes at Open Space Events.
Ms Fernandes began Open Space Events in 2006 and linked up with Mr Elmes this year to bring horse riding back to the horse capital.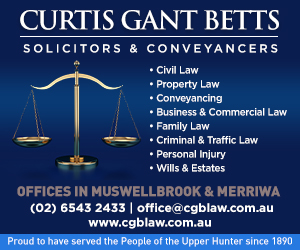 "It just sort of happened," Ms Fernandes said.
"Because I was in event management, you sort of just got the horses out for friends, you go for a big ride and go for cocktails at the end of the day and someone just said, 'you could just do this for a living' and I said, 'okay,'" she said.
"I didn't think about it, I just thought it's so stupid we can't even go horse riding and it just evolved from there," she said.
Ms Fernandes struggled to understand why there were no horse riding options in Scone and endeavoured to change it.
"One of the problems that I found, was private property owners like to keep to themselves," Ms Fernandes said.
"I'm very generous spirited…I thought 'oh this place is beautiful, why can't we share it?" she questioned.
"There was no downside to me, " she said.
Riders can enjoy a scenic route out on Tom Elmes property or explore the multiple riding lesson options on offer, but bookings are essential.
"Tom's a good guy and very easy going…we are running the business with background crew made up of five extra riders," Ms Fernandes said.
"We're keeping the groups quite tight at the moment, around ten people at a time…but I think the rides with two or four people are nice because they are a bit more intimate and romantic," she said.
"I like the afternoon rides the best, you go up through the hills, over a couple of streams and at the end you have this big yummy damper and I bring out a cheese platter, make cocktails, it's beautiful," she said.
"Every ride goes for a couple of hours, lots of sore bums," said Ms Fernandes.
With the help of Upper Hunter Shire Mayor Maurice Collison and Deputy Mayor Kiwa Fisher, Ms Fernandes has applied for an official trail ride stock route.
"The agenda for the meeting was to let the UHSC know that Open Space Events had acquired a new business partner and that we were full steam ahead with our trail rides in Scone and looking to secure properties to host guests who wish to horse ride in Scone," Ms Fernandes said.
"I offered stock route information gathered from David Gatwood and will further formalise with the Local Land Services (LLS)," she said.
"Kiwa and Mayor Collison agreed that we needed to make 'pretty signs,' letting people know where to ride and how long each ride would take," she said.
Ms Fernandes also plans to bring a glamping experience to Scone, providing tourists with country accommodation and "the full Scone package".
"We've just got all of this beautiful local produce and this beautiful town, people can bring their bikes and pearl around and feed a horse," Ms Fernandes said.
"With Scone, obviously accommodation is very low and there's no horse riding," she said.
"The tourism industry has been hit very hard with Covid-19 but so many enquiries have been made to Open Space Events with requests to escape to the country and recharge," she said,
"I didn't realise people were so locked up in Sydney…we're going to get more people coming in, so I think locals need to get their head around the extra traffic coming our way," said Jo Fernandes.
The official Scone Trail Rides website will be launched in the coming weeks and current bookings can be made through the Open Spaces Events website.
When the stock route is confirmed, a detailed map will be released on the Open Space Events website.
Tags: horse lessons, horse rides, open space events, trail rides